Speech topic: Speech Topic : Tea 101 (Saturday February 3, 2018)
Speech Topic : Tea and Terroir (Saturday February 4, 2018)
British tea taster Kevin Gascoyne has been buying tea in Asia since 1989. He started his career as a tea writer for publications in the U.K., the U.S.A. and Japan. Over the years his passion for the black teas of India has spread to the plantations of many other countries.
In Canada he is one of the owners of the Camellia Sinensis Tea Houses and Tea Schools of Montréal and Québec City. Each year he and his fellow tasters travel to the tea gardens of Asia to select teas for their internationally renowned catalogue.
As well as regular public tastings, Kevin is also involved in a wide range of workshops, conferences, seminars, research and consulting activities in North America and Asia. He also co-authored of the prize-winning book 'Tea, History, Terroirs, Varieties'.
Speech topic: Tea Essentials
Linda Gaylard is a Tea Sommelier and the author of the newly published, The Tea Book, from DK Books (a division of Penguin Random House). In 2009 she left a career as an influential TV wardrobe stylist to launch the website The Tea Stylist, for which she is best known.
Linda also writes for international tea publications, appears in media interviews, consults in the food and beverage industry and hosts tea classes and tea events.
Speech Topic: Genuine Tea in Japan

David and Sarah moved to Taiwan in 2010 and fell in love with the culture, the language and the tea. Taiwan is widely regarded as having the best high mountain oolongs in the world and served as the ideal location for them to begin their journey with tea. They spent four years in Asia, undertook a masters degree in business administration and travelled to 14 countries. After graduation, they travelled extensively through the tea plantations of Taiwan, China, Sri Lanka and partnered with a nonprofit in India.
David and Sarah returned to Toronto in 2014 and began studying to become tea sommeliers under the Tea Association of Canada. In May 2015, they launched Genuine Tea with the vision of promoting transparency and quality within the tea industry.
Speech topic: Taste and process – Decoding your tasting notes
Zhen Lu is a Chinese tea professional, devoted to sharing her knowledge and expertise with tea lovers. Brought up in a tea family with over 20 years of experience in Chinese tasting grade tea, Zhen's foundation is built on the pillars of academia, farming and processing, giving her a profound understanding of all aspects of Chinese tea.
Zhen is the first in North America to advocate "Taste the tea, know the tea", the concept of accessing all the information about a tea entirely through tasting. She is dedicated to bringing advanced Chinese tea tasting experience and knowledge to tea sommelier graduates and tea tasting enthusiasts.
Speech topic: Tea: Food as Medicine
Michelle Pierce Hamilton is a Nutritionist, Certified Tea Sommelier, and Healing Arts Practitioner/Teacher. These combined philosophies and disciplines are the spirit behind Michelle's Nutrition-based tea brand, beTeas and all new, The Tea Lounge, a beautiful place to buy and experience exceptional teas in London, Ontario.
An educator at heart, Michelle is a faculty instructor at the Canadian School of Natural Nutrition in London, in addition to incepting and instructing the Canadian Tea Sommelier Certification program offered at Fanshawe College. A long-time industry professional in project management, Michelle also continues to work part-time as a Project Management Consultant for London Health Sciences Centre (LHSC).
Passionate about tea and health, Michelle believes tea is the world's healthiest beverage and that it provides doorway to healthier diet and lifestyle.
Speech topic: Tasseomancy: The art of Telling Futures and Fortunes Using the tea Leaves
Amy has been an avid tea enthusiast and tea leaf reader for nearly 30 years and is currently enrolled in the TAC Tea Sommelier Certification Program. She has been teaching about all things tea and tea leaf reading for the past 16 years. She is also a traditional herbalist, horticulturalist, organic gardener and author. She is currently writing a book about the mystical aspects of Tea. Visit her website at www.taotat.ca
Speech topic: Tea & Chocolate
Katie's first experience with tea comes in the memory of drinking Irish Breakfast with her grandmother out of delicate teacups. Today, she carries the same reverence and passion for the art of tea into her day to day life. Katie founded The Monarch Tea Co. in late 2013 with the vision of bringing together the traditional eloquence of tea time with a modern twist.
Katie is currently pursuing her Tea Sommelier of Canada certification while offering hands on tea talks to others. Her passions involve reading, cooking and spending time outdoors. Her favourite teas are Cream Earl Grey & Genmaicha.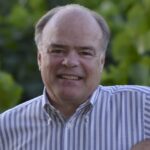 Speech topic: The Evolution of authenticity in Wenshan Baozhong Tea
David Campbell is a Canadian currently residing in the San Francisco area of California. An academic by training David spent 30 years in the wine industry prior to entering the tea business in 2007. David has been travelling regularly to Taiwan since 2002. Early on he used his free time to visit tea gardens and to meet the growers. Many of these growers became fast friends and Tillerman Tea emerged in 2007 to bring their fine teas to the North American Market.
David has published several articles on tea in "The Art of Eating" and was a contributor to the recent book, "The Soul and Spirit of Tea" He is currently working on book on the teas of Taiwan.